All Aboard!
Entering the ship, I pause below a banner that shows the stages of an eclipse (right), from the first bite taken out of the sun, through the sun's shrinking to a crescent, to totality, and then reversing the sequence. Soon after boarding, I sit while Carol memorializes our neat-as-a pin shared stateroom (below)—which never looked this tidy again.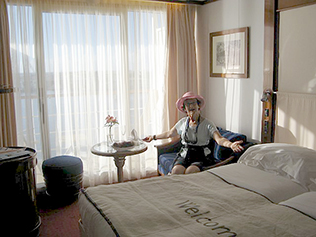 The Daily Schedule
Our days were filled with views of spectacular scenery, interesting excursions, convivial time spent on deck, and evening meals in good company.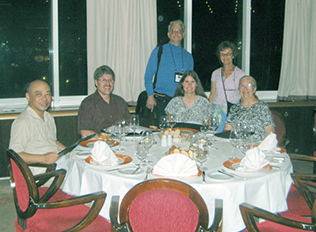 Landon Noll and Judith standing; seated L to R, Alson Wong, Bob Stephens, Nina Whiddon, and her mother, Diane Trisdale. Carol is not in the photo because (as usual) she's taking it.
Dancers and musicians were a favorite part of the evening's formal entertainment. Indeed, throughout French Polynesia, the holiday Heiva Nui is celebrated during the entire month of July with dance and music compositions. Tahitian women dance from early childhood, so their bodies, and hips, are unusually supple. I would say more than dancers I have seen before, anywhere.
Men also dance, but more often they are the musicians—especially drummers. One male dancer (below) was especially notable for the tattoos on his torso and thigh. Tattoos are ubiquitous as body art in the South Pacific. Shell and flower leis and crowns are also popular.
After the cruise, I flew to the Marquesas Islands, a different island group in French Polynesia, to Nuka Hiva, with Claudio di Santi and Landon Noll.  For the several evenings we were there, we attended dance and music performances that were part of this Heiva Nui celebration.