This, my ninth total solar eclipse, was my first at sea. Chasing total eclipses has been a delightful hobby for me for nearly 20 years, lending focus to travel. This time my eclipse chasing took me one-third of the way around the world, to the South Pacific. My sister Carol Weil joined me on the cruise ship Paul Gauguin, which set sail on July 6 from Papeete, the capital of Tahiti. The country was ready for visiting eclipse chasers, as suggested by the postcard prepared by the Ministry of Tourism (right).
I have Carol to thank for almost all of the photos seen on these pages. Click on each photo to see it at its original size.
Carol and I began our eclipse-chasing together in 1991, in Baja California, along with her friend Jerry Maltz. However, Jerry declined to go on this trip because he loves cities and hates heat. Except for our two days in Papeete, we would not be in cities—and the South Pacific in July would be nothing if not hot and steamy.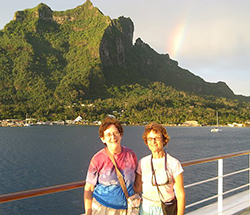 Carol and Judith, sailing away, with Bora Bora and an afternoon rainbow in the background.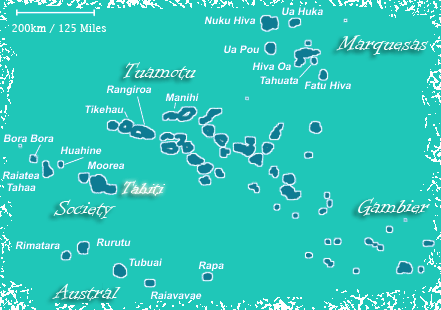 Island groups of French Polynesia.
Source: Paul Gauguin brochure.
The Route to Totality
The Paul Gauguin's non-eclipse itineraries usually wind throughout the several island groups of French Polynesia, but in July 2010 the Gauguin's special course took us out into the path of the eclipse, with the flexibility to move around in pursuit of a clear view of totality. As shown by the blue line in the map at right, once we set sail from Papeete, we had five days of cruising the Society Islands before Eclipse Day (July 11), with stops at Raiatea, Taha'a, and Bora Bora, followed by a day at sea before getting into position for the grand event.
After the eclipse, we visited Moorea and then returned to Papeete.